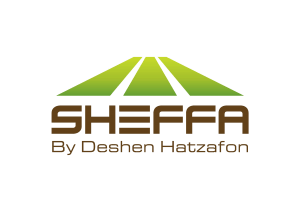 Optimal nutrition for all agricultural crops with tailor-made methods.
Our vision is to promote regenerative agriculture and be the leading plant nutrition company in the world with an emphasis on plant health, and its environment.
FARMERS' produced fertilizer
Our knowledge leans on years of agricultural experience. farmers that take care of their land, we developed the most accurate and balanced plant nutrition complexes that adjust to our needs over the years. 
cooperative organizations
We use principles based on known and proven practical experience, into one dynamic protocol, which will be adapted to every farmer according to the conditions of his crops and the cultivation area.
We produce a large variety of plant nutrition complexes, liquid and solid that contain macro elements such as N-P-K +Ca + Mg + S, micro-elements such as Fe, Zn, Mn, Cu, Mo, B.  we also produce bio-stimulants and other plant supplements.   
Ammonium-enriched fertilizer, containing a supplement of Humic and Fulvic acids and a mix of microelements. Has a unique formula that provides all essential nutrients for the orchard, without the need to activate the irrigation system. To obtain abundant and vital foliage, even during the winter, which will allow better entry into the blossom period in the spring.


High efficiency even with a small amount applied. Increasing the absorption of nitrogen into the plant and reducing its washout below the root ball. Efficient and accurate nutrition for the plant that saves energy.
Rapid absorption in the plant – the fertilizer is absorbed in the target sites and is available for performing essential biological functions. Ideal for quick correction of deficiencies. Ultimate nutrition when absorbed through the plant's root system is limited (e.g. due to soil pH, temperature, or drainage problems). High and efficient absorption of low-availability microelements in the soil.
Sheffa produces bespoke solid and liquid fertilizers in a wide variety of forms, based on local soil and water type, farmers´ requirements, and agronomist analysis. All in order to provide optimal nutrition for all agricultural crops.
Our method is to examine the main parameter involved in plant growth, such as soil analysis, irrigation water analysis and strategy, leaf analysis, and climate map. With those parameters, we characterize the exact amount of minerals for the plant's needs and develop a seasonal fertilizer regime.
By monitoring those parameters consistently over the year, we can adjust and bring efficiency to a high level, and at the same time care for the environment.  
Feeding Crops Around the World